If arrested, South Korea's Park could be sent to a solitary cell
By Reuters
If ousted South Korean president Park Geun-hye is arrested this week, she will be sent to a solitary cell where she will be expected to rise at 6:30 a.m. and go to bed by 9 p.m.
The only privilege she could have over other inmates will be slightly more space and a toilet and shower in an adjoining room, rather than within her cell, former correctional and prosecution officials said.
Park, moved out of the mammoth presidential Blue House just over two weeks ago, after the Constitutional Court upheld her impeachment for conspiring with longtime friend Choi Soon-sil to raise millions of dollars for foundations from the country's conglomerates.
Park and Choi both deny wrongdoing.
Park is now in her private residence in an upscale Seoul neighborhood but a local court will rule on Friday on a warrant seeking her arrest. If granted, the 65-year-old will be held in detention for 20 days while she is investigated and possibly indicted on charges that could imprison her for at least 10 years.
If arrested, as a former president she will be assigned a cell that will be larger than the 6.56 square meter (71 square foot) solitary units occupied by others accused of wrongdoing in the same scandal, including the head of the Samsung conglomerate, Jay Y. Lee.
"I think Park would stay in a better facility," said Kim Kyung-soo, a retired prosecutor who interrogated two former military presidents, Chun Doo-hwan and Roh Tae-woo, after their arrests in 1995 for treason and bribery.
"And she will use a bigger cell than those of others."
Park will likely stay in a single cell in a remote building for security reasons to keep her separated from other inmates, the former prosecutors and prison officials said, but will be subject to the same rules on everything from meals to room inspections.
That includes rising at about 6:30 a.m. and going to bed at around 9 p.m, and being allowed to watch television during the day but only a single channel with pre-recorded programs authorized by the Justice Ministry.
Visitors are limited to one a day but detained inmates are allowed unlimited meeting time with their lawyers.
The Korea Correctional Service, which operates the country's prisons and detention centers, lists a rotating set of meals that provide 2,500 calories a day.
If Friday is her first day in detention, Park will be served a simple lunch of rice with bean sprouts, kimchi, cabbage stew and seaweed that costs 1,443 won ($1.30), officials said.
NO CHIGNON?
One of the other privileges Park will have to give up if arrested will be getting her hair coiffed in the cropped chignon style that is her trademark.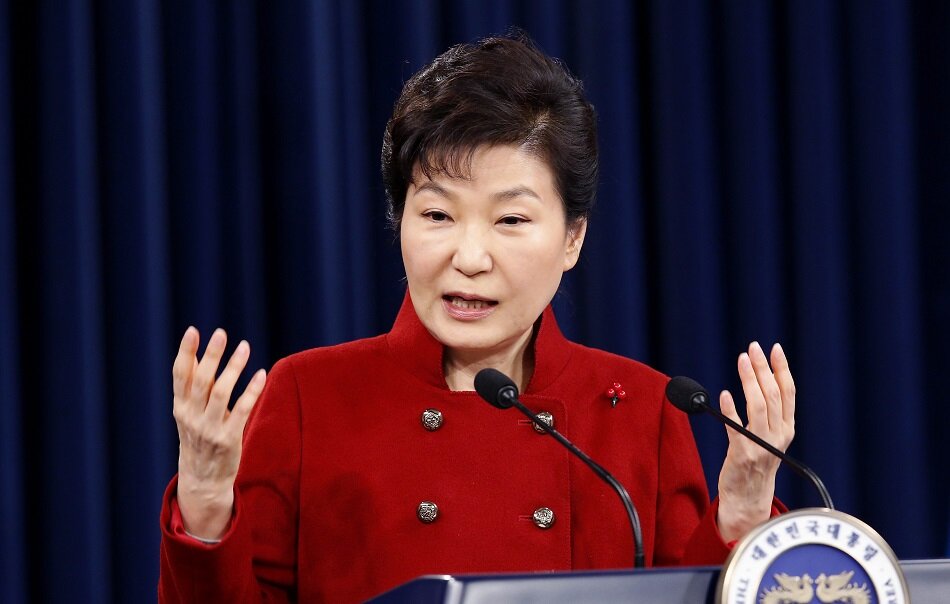 Since taking office, Park has never been seen in public without a perfect chignon. She was last seen emerging after 14 hours of interrogation by prosecutors last week with the style intact.
"Getting your hair permed or done by someone from outside the facility is against equality among inmates," Kim, who now has a private law practice in Seoul, told Reuters.
"It will be difficult for (Park's side) to insist they need an outsider to come in and do her hair."
Inmates have access to hairdressers inside but services are limited to cutting hair. Cosmetics at the detention center commissary are limited to the basics, like toner and lotion. Hair dye is also unavailable.
Park will not be allowed to keep hairpins, lawyers who know about South Korea's correctional system said.
It's not immediately clear which detention center from among the five in the Seoul metropolitan area will be used for Park if she is arrested.
Choi and Samsung scion Lee, who is accused of giving bribes to Park for corporate favors, are being held at the Seoul Detention Centre, but officials there declined to comment on where Park will be taken if she is arrested.
The center is however considered to be her most likely destination if the arrest warrant is issued.
Lee Soon-gil, 77, a retired justice ministry official who was chief at the Seoul Detention Centre when Roh was held there, said the former president was given a bigger cell and a separate shower room and a toilet, whereas other inmates had wash stands and toilets inside their cells.
Lee said officers redesigned an old cell, furnishing a desk and a bed for the former president, but the cells were inspected every day like others.
"She will be treated equally like anyone else," he said of Park.
Samsung's Lee has no shower, only a wash-stand, in his cell and a mattress on the floor to sleep on.
Kim, the retired prosecutor, said Park would have some benefits as a former president but no advantages.
"She is 65 and a woman, so in that regard she will be taken care of, but in the meantime she will be going through thorough investigations while being in there despite her age and status as a former president," he said.