By BBC
UK aid agencies have launched a fundraising appeal to help millions of people facing hunger in East Africa.
The Disasters Emergency Committee says at least 16 million people in Somalia, Kenya, Ethiopia and South Sudan need food, water and medical treatment.
Drought and conflict are to blame for the crisis, says the DEC, which will broadcast an emergency appeal on the major television networks on Wednesday.
The government said it will match the first £5m donated by the public.
Last month, a famine was declared in parts of South Sudan, the first to be announced in any part of the world in six years.
The government and the United Nations reported that some 100,000 people are facing starvation, with a million more on the brink of famine.
A combination of civil war and an economic collapse have been blamed.
In Kenya, the country's president Uhuru Kenyatta declared its drought a national disaster and Kenya's Red Cross says 2.7 million people face starvation.
There is also a severe drought in Somalia and Ethiopia.
'Desperate for food'
Saleh Saeed, chief executive of the DEC, an umbrella organisation which brings together 13 UK aid charities to deal with international crises, said hunger was "looming" across East Africa.
He said more than 800,000 children under five were severely malnourished.
"Without urgent treatment, they are at risk of starving to death," he said.
"We are hearing that families are so desperate for food that they are resorting to eating leaves to survive. This is something no family should have to endure.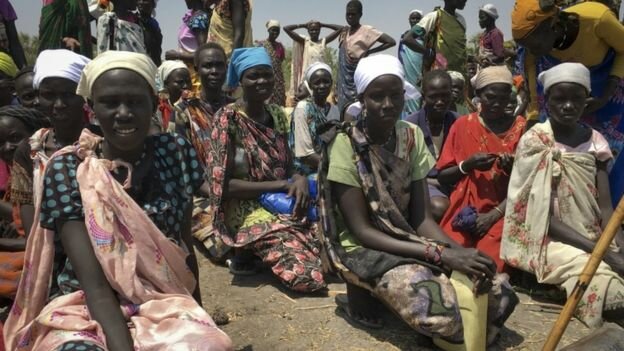 "Unless we act now the number of deaths will drastically increase."
International Development Secretary Priti Patel said UK aid has funded food, water and emergency healthcare in East Africa, but more support was "urgently needed to prevent a catastrophe".
She said the international community must follow the UK's lead "to save lives and stop the famine before it becomes a stain on our collective conscience".
"The world cannot afford to wait," she said.