Anti-Terror police intercept secret Al Shabaab funding channels
By KBC Reporter
Latest reports indicate that Kenya's security agencies have unearthed a secret network led by relatives of Al Shabaab operatives of Kenyan origin said to be financing the activities and secretly channeling money to the Somalia based militants.
After the increased scrutiny into the flow of finances and resources to the Somalia based terro organization, Kenyan Al Shabaab are resorting to use relatives and third party conduits to channel moey to them.
Reports indicate that Anti Terror Police Unit-ATPU has intercepted the secret money xchannels and links for up to 3 kenyan al shabaab operatives on their watchlist.
Ahmed Iman Ali aka Abu Zinira, a propagandist and recruiters and strategists Erick Achayo Ogada aka Ibrahim Ogada aka Erico Swaleh and Kennedy Yogan Mwok aka Anwar have been getting their remittances from the stalls they own in Gikomba market in Nairobi.
Specifically, Ahmed Iman owns and receives funds collected from at least ten stalls within Gikomba Market. The proceeds from the stalls make his stay in Somalia comfortable and partly facilitate his propaganda video releases. However, enhanced security has made it difficult for Iman and his associates to benefit on the proceeds from the stalls as the government froze the bank accounts of Pumwani Riyadha Mosque (PRM) which used to receive the rent from the stalls.
Police have also been following up on their associates and investigations reveals that the group based in Somalia has revived old networks by relying on financial facilitation from their relatives locally in Kenya. Police have narrowed down on their financiers amongst them include Rose Awinja Ondumbu mother to Anwar, Anne Talu Kilingo aka Mama Tabby mother to Dorcas Ndombolo Kilingo who is Anwar's wife, Edward Oyoo Keye aka Fundi a brother to Ogada among others.
"Fundi" Oyoo has since been arrested in connection with terror activities.
Awinja manages several properties owned by Anwar and herself from which she has been collecting rent and remitting to Somalia to facilitate Anwar's operations. The properties, which are registered under her son's name, include a residential house at Umoja and a one story commercial building at Nasra area in Nairobi. It has been established that, since 2013, Awinja has sent over Kshs 4,000,000/= to her son in Somalia.
Awinja is also believed to own a residential house in Kamulu area and a tipper lorry whose proceeds she uses to complement the remittances from Anwar's properties.
Such facilitation is believed to have enabled Anwar to participate in previous gruesome attacks within the country – including the June 2014 Mpeketoni attacks and June 2015 attacks in Baure.
In mid-2016, Anwar also participated in an attack on a security facility in Lamu that led to the death of his close associate from Umoja, Omar Patroba Juma, with whom they had traveled together to Somalia. Iman, Anwar and Ogada have previously been involved in several attacks targeting African Union Mission in Somalia (AMISOM) troops.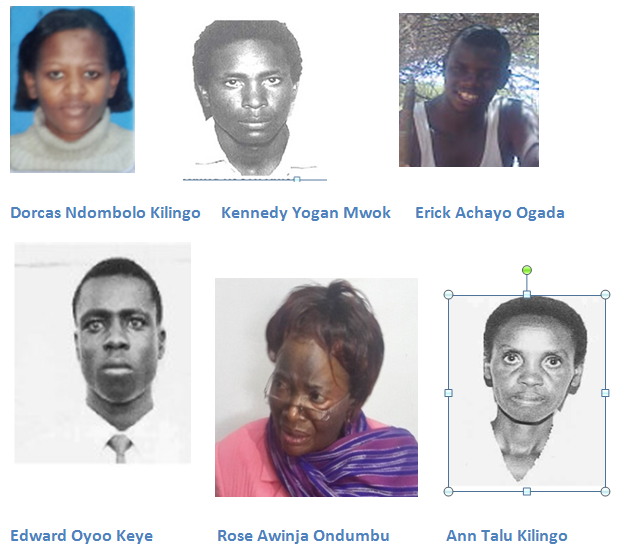 Mama Tabby, Anwar's mother-in–law is also facilitating financial transfer to him. She acts as a conduit between Awinja and Anwar in Somalia as she uses third parties mostly based in Mombasa and Liboi to transmit money to Anwar and her daughter Dorcas Ndombolo Kilingo. Dorcas who is also a Kenyan Al-Shabaab operative based in Somalia is the wife to Anwar.
Since mid-2015 Oyoo has been collecting rent from the properties of Ogada and remitting to him in Somalia.  Some of the properties include houses for rent and a motorcycle taxi. Mostly, Oyoo sends the money to individuals within Ifo refugee camp or Eastleigh which is later sent to Somalia.  This has enabled Ogada to stay comfortably in Somalia while engaging in recruitment of Kenyans to join Al-Shabaab and planning attacks against innocent civilians. For instance, Ogada coordinated the grenade attack on a public transport bus along Thika road in Nairobi in May 2014 that left three people dead. He is also involved in facilitating the movement of radicalized youths from Coast and Nairobi to Somalia for training.
Oyoo, who was born on 21st July 1978 in Siaya, owns an electronics shop in Kitui Village (Kinyago Gwang'a) behind Biafra Mosque. Previously, he operated an electronics shop at the junction between Lamu and Digo road in Majengo but later moved to Gwang'a.  He is also a clothes trader in Gikomba Market, Nairobi.
Police are calling upon members of the public to desist from abetting terrorism by being used as financiers. The government is also tracking all the properties of terrorist whether registered under their names or those of proxies.