Russia vows response to diplomat expulsion from US
By BBC News
Russia has promised to respond to the expulsion of 35 of its diplomats from Washington, amid a bitter dispute over alleged Russian interference in the recent US presidential election.
A spokesman for President Vladimir Putin said the Kremlin's reaction would cause the US "significant discomfort".
The foreign ministry said Russia's response would be announced on Friday.
Russia has denied any hacking involvement and called the US action "ungrounded".
Under the US action taken on Thursday:
Thirty-five diplomats from Russia's Washington embassy and its consulate in San Francisco were declared "persona non grata" and given 72 hours to leave the US with their families
Two compounds said to have been used by Russian intelligence services in New York and Maryland will be closed
Sanctions were announced against nine entities and individuals including two Russian intelligence agencies, the GRU and the FSB
President Barack Obama had vowed action against Russia amid US accusations that it directed cyber-attacks on the Democratic Party and Hillary Clinton's campaign.
Emails stolen from her campaign manager and from the servers of the Democratic National Committee – some containing embarrassing information for Democrats – were released during the election campaign through the Wikileaks website.
Moscow has made it clear it will hit back. The Kremlin has promised an "appropriate response" to the US sanctions; the Russian foreign ministry says there will be Russian "counter-measures".
In the tradition of the Cold War, tit-for-tat is the likely reaction. That would mean Russia expelling a similar number of American diplomats.
But Moscow knows that in three weeks' time President Obama will be vacating the White House. America's new president, Donald Trump, has called for better relations with Moscow. He has nominated people for senior positions in his administration who are seen as friendly towards Moscow. Rex Tillerson, his nominee for secretary of state, once received an award from President Putin himself.
Will that soften Moscow's response? Or will Russia hit back just as hard?
An unconfirmed report by CNN says Moscow may respond by shutting down a school attended by diplomats' children.
US officials contacted by AFP news agency said they were aware of reports that the city's Anglo-American School faced closure as retaliation but could not confirm them.
An unnamed source in the school was quoted as telling a Moscow newspaper, MK (in Russian), that it had received no official notification of closure.
Reacting to Thursday's announcement from the US, Kremlin spokesman Dmitry Peskov said: "Undoubtedly, commensurate reaction based on the principle of reciprocity will cause significant discomfort to the American side in the same areas."
But he hinted Russia might wait until Donald Trump, who has played down the hacking claims, became president.
"These decisions were taken by President Obama, but Trump will become the head of state in three weeks' time," Mr Peskov said. "Of course, this factor will certainly be taken into account one way or another."
Separately, the Russian embassy to the UK tweeted a visual gag calling the Obama presidency a lame duck.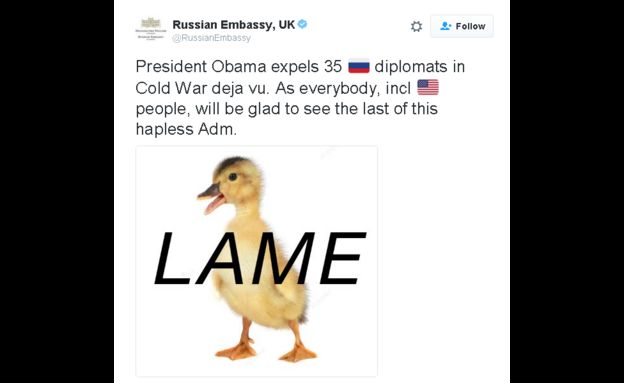 Russian media say the Russians facing expulsion from the embassy in Washington are struggling to buy plane tickets because flights are full ahead of the New Year holiday.
They will be forced to travel to New York, where their chances of finding plane seats are better, an "informed source" told Interfax news agency.
'Getting nasty'
Russian foreign ministry spokeswoman Maria Zakharova said America had been "humiliated by its own president" and promised counter-measures on Friday.
In a scathing post on Facebook (in Russian) under the English headline "Obama's Coming Out", Ms Zakharova dismissed the Obama administration as a "group of vindictive, unimaginative, foreign policy failures" with the exception of Secretary of State John Kerry.
Pavel Felgenhauer, a Russian military affairs analyst, told BBC World Service things were going to get "very nasty" from here on in.
But US Democrat Senator Amy Klobuchar, who is currently on a visit to the Baltic states, told the BBC it would have been a mistake for the US not to respond to the hacking.
"This is something that is not just about American democracy, it's about all democracies," she said. "There's upcoming elections in Germany and France and for the US just to roll over and to let this happen with no response would have been a huge mistake."
President-elect Trump has dismissed the hacking claims as "ridiculous" and said Americans should "get on with our lives" when asked previously about the possibility of sanctions.
US intelligence agencies, including the FBI and CIA, concluded that the aim of the hack was to cause damage to Mrs Clinton and the Democrats and favour Mr Trump.